Dr. Ball is well-educated, experienced, patient friendly, and a truly professional surgeon.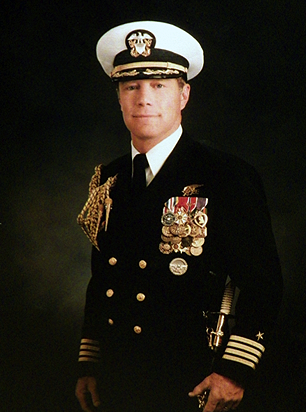 "I am a retired Navy (SEAL) Captain who spent 30 years in the Naval Special Warfare community, including 3 combat tours to Vietnam with the SEALs and command of SEAL Team SIX from 1990-1992.
During my career I received a Master of Arts Degree from the Naval Postgraduate School, graduated from the Navy War College Command and Staff College, and was president of the National War College Class of 1993.
Following my retirement from the Navy, I joined a professional services firm in Virginia and filled such positions as Director of Marketing and Division Vice President. Following the sale of the company and my relocation to Florida, I have spent the past 10.5 years with the Wackenhut/G4S armed security services company and have served as the Site Manager of the guard force at two large upscale residential communities near my home in Port St. Lucie.
Based on my age, and on the recommendation of my family doctor, I researched local area urologist in order to select one who would effectively monitor my prostate. Based on that research, I selected Gulfstream Urology and Dr. Adam Ball. After about 1.5 years of ordering and monitoring my PSA level, in early 2012 my level suddenly doubled to 6.6. On that basis, Dr. Ball scheduled a more complete PSA level test and, with confirmation of the increased PSA level, he performed a biopsy of my prostate.
With the biopsy confirming the presence of cancer, Dr. Ball ordered a series of advanced medical images to determine whether or not the cancer had spread beyond the prostate (which it had not). In addition, Dr. Ball discussed, in detail, my possible courses of action, possible repercussions of each, and gave me a copy of Dr. Patrick Walsh's book Guide to Surviving Prostate Cancer (Dr. Walsh is considered to be the world's foremost authority on prostate cancer).
In his book, Dr. Walsh addresses the various response options to treat prostate cancer and unequivocally states that the number ONE consideration in any option is the patient's trust in the skill of the physician based on his knowledge and surgical experience. Based on Dr. Walsh's advice and recommendations, combined with Dr. Ball's background and recent surgical successes, I requested Dr. Ball to treat my cancer using the Da Vinci robotic-assisted radical prostatectomy technique, which he performed in July.
He operated in the morning, I was walking around the ward that evening, and went home the next day. Dr. Ball will continue to monitor my PSA level to ensure no microscopic cancer cells were left behind. Dr. Ball is well-educated, experienced, patient friendly, and a truly professional surgeon. I strongly recommend he be placed at the top of any list of urologists you make, should you develop prostate cancer."
– Ronald E. Yeaw