My thanks to you Dr. Ball and April, a job well done.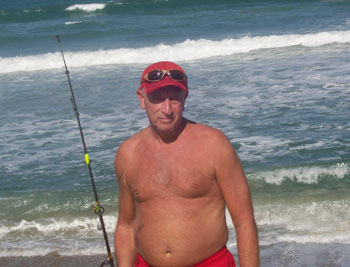 "I would like to introduce myself, I'm Rich Dector. I am 61, soon to be 62. I have a family history of prostate cancer, my Dad, thus I was closely watching my PSA. At the age of 60 my PSA elevated from 2.35 to 5.35. At that time I had a biopsy of my prostate. I had no symptoms other that the elevating PSA. My biopsy came back 4 on the Gleason scale. In conjunction with my urologist, I chose to "wait & watch".
My PSA remained the same a year later but I felt that I should have another biopsy. My urologist agreed and this time it was a 6 on the Gleason scale. I decided upon surgery, and my urologist recommended that the da Vinci prostatectomy would be the most appropriate approach. I had been spending the summer in NJ when all this occurred but I knew I wanted the surgery to be done in Florida. Recovering in sun and warmth seemed like a very good idea.
I searched the internet for physicians who perform the da Vinci procedure and the hospitals that had the appropriate equipment. Dr. Adam Ball was my first choice, he was relatively close to my home, but better than that, he was trained in this procedure, he had been doing it since its inception. His detailed plan of care, available on his website, was exceptionable. The whole experience was positive. I'm in my 4th week of recovery. I haven't used any pain medication since discharge from the hospital, which was one overnight. Dr. Ball is young, knowledgeable, talented, competent, and compassionate. His nursing and office staff go that extra step to insure your comfort. My thanks to you Dr. Ball and April, a job well done."
– Mr. Rich Dector